Kathleen Masse – Office Manager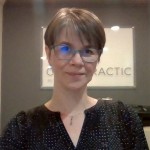 For seven years, Kathleen was a Certified Massage Therapist in sunny San Diego, California, but came home to Canada to be closer to family and real seasons! With experience that ranges from graphic design to office administration, Kathleen brings a variety of skills and a sense of humor to the front desk. Her passions include writing fiction and reading as many books as she can, hiking, cooking, baking and world travel. She has recently celebrated her two-year anniversary at Trinity Chiropractic.
Since joining the office, Kathleen has been putting faces to names and has enjoyed learning a little bit about every patient that comes through the door. She will be your first point of contact, when you call or come in to our office.