News & Events for 2022…
---
2021
Holidays in August, what?
It's official. It's been at least two years now since Dr. Lowthian took a break, so from August 23rd to 27th, the office will be closed as we take a much-needed break. We'll be back to work on August 30th refreshed and renewed and ready to see our patient's smiling faces. In the chiropractic world, we say, "Bone Voyage"!
---
It's "Arch Madness"!
Thank you to all our patients who participated in the "Arch Madness" contest. We've had some great new referrals – which mean the world to us! We also had some happy new orthotic patients who are walking a little taller and got their chance at the prize. The final winner, however, is Taylor B. Congratulations and thank you for your trust in us. Enjoy your prize!
—
For the next 30 days, you could earn the chance to win our "Arch Madness" foot-care basket, which includes two CryoBlaze hot/cold gel packs, a BioFreeze spray, the ever-popular Theraband Foot Roller and two pairs (his/hers) of fun socks!
To enter the contest, refer a friend or family member who becomes a patient within the next 30 days OR order a pair of orthotics. Be sure to let us know who you plan to refer so we can keep track of both your names for the contest.
Referrals mean the world to us. If you know someone who could benefit from chiropractic care, this could be a win/win situation!
Introducing…
Trinity Chiropractic Resource Library!
Our Resource Library is an effort to further assist patients who are seeking additional support after consultation or treatment with Dr. Lowthian. Whether you are chronically stiff in your low back or need a little strengthening for that shoulder, the Resource Library can be your "Dr. Jeff" at home. Check out our first video here!
We will regularly add a custom "Stretch of the Month" video to the Library in addition to providing a variety of diagrams approved by Dr. Lowthian to demonstrate other exercises to support your care. As the private link to the Resource Library will be given to our patients for their specific care plan, we ask that you do not share. If you think someone you know would benefit from Dr. Lowthian's care, don't hesitate to refer them to our office; remember, a consultation is free!
We welcome questions and feedback and encourage you to submit a request to info@trinitychiro.ca for a particular stretch or exercise you wish to see demonstrated. We will add it to the Library!
---
2020
"Quarantine" Basket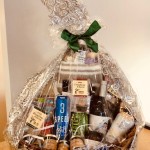 Congratulations, Candace R., our big prize winner!
Thank you to all our wonderful patients who participated and took a moment to write some amazing reviews for us on Google. You can still help our small practice with your feedback at any time and we thank you from the bottom of our hearts. Your kind words and your referrals are the greatest compliment.
Merry Christmas and Happy New Year!